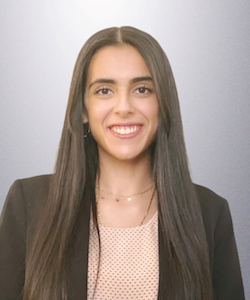 Maya Fouad
Although Maya Fouad has been with Conaway & Strickler less than two years, she is an integral part of the Firm. She is currently weeks from becoming Georgia's next superhero lawyer when she passes the Bar and begins practicing. She graduated from Georgia State University College of Law in May 2023 cum laude with pro bono distinction and was in the top 25% of her class. While attending GSU, she participated in the Immigration Clinic, giving her extensive experience working with clients through interpreters. She was also the president of the Muslim Law Student Association. Ms. Fouad focused on being a criminal defense lawyer from a young age and focused her studies on economics and philosophy after developing a strong interest in understanding how economic policy and laws can affect criminal outcomes in society. She believes many factors influence criminality and considers it crucial to identify those factors to assist with mitigation from an early stage. From the first day she began interning at Conaway & Strickler, she realized what a perfect fit the firm was, as Ms. Strickler's understanding of how mental health conditions impacts clients and our emphasis on helping clients mitigate the charges they face fits perfectly with her passions.
Ms. Fouad has extensive experience drafting motions to suppress, appeals, and trial prep. She has been published in articles alongside Ms. Strickler. Her top-notch writing skills earned her the highest grades in both her Criminal Law class and Advanced Evidence.
Ms. Fouad has an innate eye for boiling down terabytes of discovery to basic concepts to identify key legal issues and also to explain to clients, a skill many experienced attorneys lack. She intends to focus her criminal defense practice on complex criminal litigation as a result.
Ms. Found has particular expertise in white-collar offense, where she has worked with clients in the pre-indictment phase, at trial, and on appeal. She also has worked with clients in regulatory proceedings involving the U.S. Securities Exchange Commission (SEC).
For her undergraduate degree, she triple majored in Economics, Philosophy and Arabic at the University of Richmond and still made the Dean's List.
She is a member of Georgia Association of Criminal Defense Lawyers, Georgia Muslim Lawyers, and the Atlanta Bar Association
In her free time, she enjoys movies and snuggling with her cat, Meena.