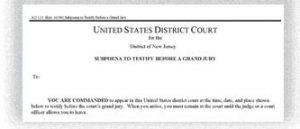 What is a Grand Jury?
The purpose of the grand jury is to determine whether or not there is probable cause to believe that any federal felony has been committed. A typical federal grand jury consists of between 16-23 citizens drawn from the community.
The jurors meet in a closed courtroom, with no judge, no accused, no press, and
no lawyer
but the prosecutor present. This means your lawyer will NOT be present in the closed court room.
The grand jurors decide whether or not to indict a person or persons by listening to witnesses and evaluating evidence obtained by grand jury subpoenas. At least 12 grand jurors must find that there is sufficient probable cause in order to return a
True Bill,
 which when signed by the prosecutor becomes the indictment: the formal criminal charge that the government must prove beyond a reasonable doubt at trial. If the grand jury does not find sufficient probable cause, which almost never occurs, then it returns a
No Bill.