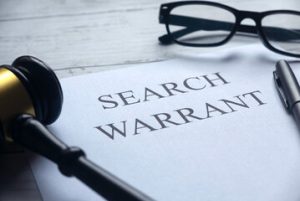 The 
Fourth Amendment of the U.S. Constitution
 protects against unlawful searches and seizures by the government.  When the government wants to obtain a search warrant, an affidavit must be drafted and application must be made to a U.S. Magistrate judge (in federal matters).  The affidavit can be more than a hundred pages at the minimum in complex cases.  The affidavit will begin with an introduction and the background of the agent (his/her experience).  In this section, statements beginning with "Based on my training and experience" are plentiful.  The next section generally addresses
probable cause
 and sets forth facts that show probable cause has been established to support the issuance of a search warrant and that items listed have a reasonable probability of being found during the search.  Finally, it will detail what needs to be searched and what items the government is seeking.  Law enforcement often request search warrants when seeking documents, electronic devices, money, drugs, paraphernalia, ledgers, photos, receipts etc.  A warrant can be requested for real property, a person, electronically stored information from your phone, iPad, computer, external hard drives, a tracking device on a car, the car itself, and/or other modes of transportation such as a boat.
Once the search warrant is signed by the judge, the search warrant will be executed.  Generally, the government will work to execute the warrant with local law enforcement officials. The search can take hours, and often times, questioning will occur at the same time.  NEVER SPEAK TO LAW ENFORCEMENT at this juncture without a lawyer.  This interview at your home or office is often recorded by body cam, audio, and other video devices.  It can be difficult to get those statements excluded at trial for a variety of reasons.
After the execution of the search warrant, a copy of the search warrant inventory will be left, and it will list out exactly what was seized.  In the case of the execution of the search warrant for Donald Trump, there is a search warrant, sworn affidavit, and application filed, but it is under seal.  Mr. Trump also received a search warrant inventory. Hopefully, these documents will be released to the public sooner than later.